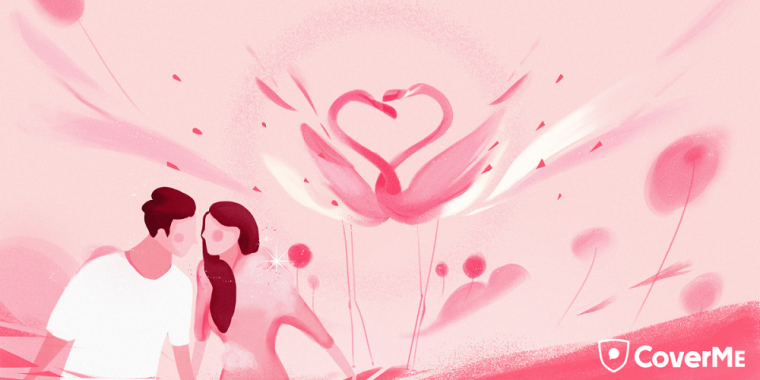 Although Valentine's Day 2022 will be still on under the pressure of COVID-19, there are no reasons to miss the big moment for couples and lovers, even though they fail to be physically together. Here come the best 7 ideas to celebrate Valentine's Day with online date during the COVID-19 or Omicron.
Idea#7. Make and send an e-card.
A valentine's day card is easy and traditional, and everyone will like it although it doesn't cost much. Nowadays, with the help of technology and applications, it's both quick and easy to make an e-card for online date to celebrate the Valentine's Day. Apart from wishes, some memorable moments can be covered in the e-card so that it looks more like a minimized movie telling a love story between you two.
Idea#6. Make a video.
Making a video expressing your love to the other is an excellent idea to celebrate the Valentine's Day because it's easy and popular. Now that TikTok is quite popular around the world, it takes few efforts to generate a creative, humorous and fantastic video just via a smartphone. You can make a video to express your sincere love for your online date and send it on the Valentine's Day or publish it on your TikTok account to let the whole world know how much you love him or her.
Idea#5. Play online games together.
If both of you love online gaming, why not celebrate your day by online gaming? Build a team that really belongs to you both and combat with other teams to finally win the game. For online gaming fans, nothing is worthwhile but a victory on the virtual field.
Idea#4. Do video calling.
Video calling may be the easiest thing to do currently based on the features provided by phone applications. Perhaps, that's just what you do every day. Nevertheless, the valentine's day video calling may be a little different. You can live what you're doing on the day to each other so that it looks like you're still spending the big moment together. You can even stream the same movie on Netflix and talk about anything at the same time. As such, the virtual being together really looks like it's real.
Idea#3. Send your photos anytime.
If you must be involved in some things on the Valentine's Day, sending the photos to the other introducing what you're doing and how you celebrate the day with yourself. You can either go to the restaurant where you met each other to have a dinner, read a book the other likes best, or wear the couple T-shirts. No matter what situation, you just need to take a photo to memorize.
Idea#2. Buy a gift online.
Valentine's Day gifts can never be extraordinarily expensive but precious and sincere. You can buy a gift that is really needed by the other and expected for long time. Or you can order a cake or flowers from the place your date is living and order delivery on Valentine's Day. Although they cost little, they'll definitely leave deep impression on the other's heart.
Idea#1. Surprise the other.
None gift can be compared with your accompany on Valentine's Day. If you want to have the most memorable Valentine's Day, just surprise your date with your accompany. Before the Valentine's Day, you can prank the other that you fail to be with him or her on the day and you'll surprise the other by sudden appearing on the day. Or, you can go to your date's location and order his or her favorite food by takeaways. Then go to his or her home by pretending you're a delivery staff. Wow! What a surprise!