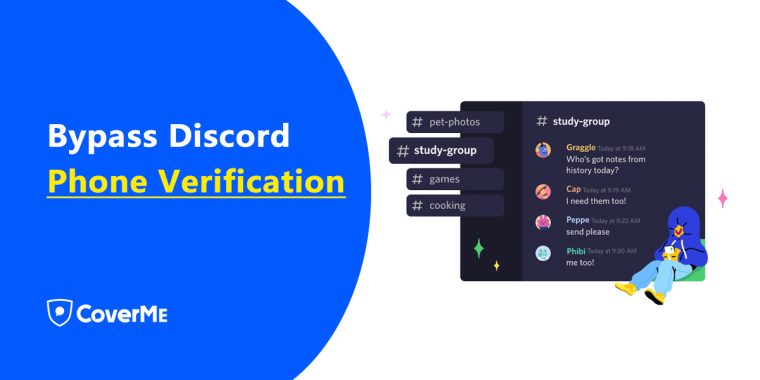 If you have decided to download an app allowing you to send instant messages and create communities with friends, Discord can be a very useful software for you to take into account and it's getting increasingly popular these days. However, when you try to get it, such a step may confuse you a lot, which is called phone verification. So why this step is unavoidable, you may find the answer after reading this article.
Why is a Phone Verification Required by Discord?
Not only on Discord, but a valid phone number is also nearly asked by all online accounts for verifications. Phone verification is one of the most widely used ways of security verification for an online account. The purpose of it is to verify the reality of an account owner, thus protecting the online environment and ensuring your account will be not stolen by others.
The phone number linked to an online account plays a role as an identification number indicating a real person instead of a robot. Moreover, once the number is obtained and accumulated, it's easier for online service providers to further market their products and services.
How does Phone Verification Work on Discord?
Just as stated above, phone verification is an unavoidable step when applying for a Discord account, then how does it work on Discord? If you are eager to learn it in advance, here comes the specific process it works.
Apply for an account for the first time
After downloading Discord and wanting to begin to chat with others in a further step, you will be asked to enter your account by the system automatically, without an account you will fail to chat with others. In order to acquire an account, your phone number will be asked to be offered to obtain a verification code. With that step successfully finished, an account will take effect at once.
Apply for joining into others' chatting group
Although having already passed the verification to create a new Discord account, you may be asked to verify your identity again if you would like to join a certain group based on the requirement of the founder. The common rule is that you need to answer the relative questions set by the founder. Once your answer satisfies the founder, you will be permitted to enter the group and be a member of it.
Why Cannot You Bypass Phone Verification on Discord
Of course, what has been stated above is the most cases, but there is still a special condition. Under this condition, after entering your phone number into Discord, the system will show such a word that indicates your phone number is invalid. If it is true, the following situations can be taken into consideration by you.
You choose the wrong country code for your number
The code varies from country to country, that is to say, you should choose or enter the right country code according to your location. In most cases, the system will identify your location by your phone number automatically, and your phone number will be regarded as invalid once your country code is different from the recognition from the system.
The system detects a burner number and blocks it
The working principle of phone verification is to verify your personal information through your phone number. Once it makes a conclusion that your phone number is not real or a burner number, it will block your phone number and notify you that your phone number is invalid. Therefore, it's extremely necessary to ensure the validity of the number you're going to use for Discord registration. Not all virtual numbers or burner numbers can be accepted by the Discord system. That's also why CoverMe numbers are quite used by users to sign up for Discord since their validity has been quite proved.
Another account on Discord has already been verified with the phone number
A phone number is permitted to apply for one account, supposing that you attempt to get another account via the same phone number, your requirement must be rejected by the system. That's what usually occurs to some virtual or burner numbers. Nevertheless, a CoverMe number never.
You do not enter the verification code correctly
Sometimes, you are too hasty to enter the right phone number or enter the wrong verification code, and the two conditions are likely to be the reason why your phone number is invalid.
How to Bypass Discord Phone Number Verification with CoverMe
It is the possible reasons you cannot pass the phone verification that are talked about in the previous section, and one of them is that a burner number is used for Discord registration. Of course, it is a useful way to get an account without using a real phone number and protects your privacy as well, for cutting down the risk of information leakage, but this way may be detected by the system of Discord. If you long for a useful way to handle this dilemma, you would better download CoverMe.
What is CoverMe and How Does It Work?
CoverMe is the ultimate secure app providing private texts, phone calls, and sharing of personal photos and videos with an impenetrable vault for protecting your secret contacts, call logs, messages, documents, notes, passwords, and private photos and videos from prying eyes. Besides that, it will offer you a second number, which can be used when acquiring an account successfully.
The working principle is to provide you a second phone number, and this number can be regarded as a disposable one, that is to say, you can use and delete it anytime. What is more, this second number will not be bounded with your private information.
A Step-by-Step Guide to Bypass Discord Phone Number Verification
Here are the relative steps you should keep in mind when signing up for Discord with a CoverMe number:
Download and install CoverMe on your device.
Buy a phone number plan on CoverMe.
Register an account on Discord.
Enter CoverMe phone number, receive a verification code from CoverMe messages, and put it into the right place, then finish registering.
What Else Can CoverMe Do for You?
Besides helping to bypass phone verification, CoverMe also possesses some other functions. These functions are as follows:
Disappearing messages
Private messages can be programmed to self-destructing messages automatically from both participating devices.
Secure vault
CoverMe password manager helps you to keep passwords safe and the passwords will be completely secure with strong protection of dot-lock and impermeable encryption.
Private text
Sending private SMS with CoverMe secret texting app, you are allowed to set personalized notifications for every contact.
Anonymous calling
You can make your identity anonymous when contacting strangers and you don't have to deal with calls once your business is done.
Bottom Line
Phone verification is an unavoidable step when applying for an account on Discord, and there are usually two ways that it works on Discord.
You can bypass phone verification successfully with CoverMe.
Apart from bypassing phone verification on Discord, CoverMe also provides multiple secure features protecting your online activities from prying eyes.