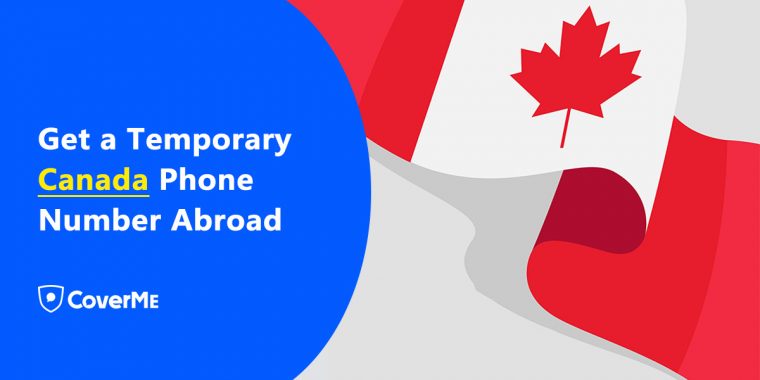 If you run a business with clients in Canada, it's important to be able to provide them with a local number. This is a great way to reduce their calling costs, boost your customer retention and present a professional front for your business. And if you're a personal user, getting a local Canada number can be a great way to communicate with friends while you're travelling or on holiday.
Getting a second phone number localized to Canada is as simple as downloading the CoverMe app and selecting the area code you want. A virtual phone number can be used for any purpose, and it operates on both Android and iPhones.
Using a Canada number has loads of benefits, especially for customer-oriented companies looking for a professional and reliable service. With a second number, you can ensure your customers can access seamless communication with your representatives, and our phone service option is fully scalable, allowing you to add as many numbers as you need. For your customers, it's a great way to cut down on calling costs, since calls to your number won't be charged at an international rate.
Canada Phone Number Formats
In Canada telephone numbers are formatted according to the standard fixed-length Bell System. This means it has a country code of +1 followed by an area code comprising three digits, a three-digit central office code (or what's known as an exchange code), and then a four-digit station code. Typically, it looks like this: 1 NPA NXX XXXX.
Normally, if you want to provide your customers with a Canadian number on your website for them to contact, you'd write this number out as follows, using dashes: "NPA-NXX-XXX". However, you can also display it as "(NPA) NXX-XXXX". According to the Government of Canada's Translation Bureau, you should write the number clearly using dashes to avoid any confusion and aid readability. This will help your customers dial in the number quickly and using a format they are familiar with.
Country Code of Canada Phone Numbers
If someone is calling a local number in Canada, they would dial it without the country code. However, for domestic long-distance calls it would be necessary to add the +1.
Likewise, if someone from within Canada was trying to call your number and you were based outside of Canada, they would have to enter your country code. And this will certainly put them off calling because most carriers charge exorbitant rates for international calls. This is why it's important to use CoverMe to get a local number for your customers.
With a second number for CoverMe, you'll get access to as many alternative Canada and US numbers that you need, you just select them after signing in and activate them. Plus, CoverMe has loads of other great features for both the business and personal user that improves your privacy and security, and which ensure that you get excellent call quality. Find out more below!
Area Codes of Canada Phone Numbers
If you're looking for specific area codes for your Canada number, here's a handy table to get you started. You can reference it when picking your alternative number in CoverMe.
Province / Territory
Codes
Alberta
403, 587, 780, 825
British Columbia
236, 250, 604, 672, 778
Manitoba
204, 431
New Brunswick
506
Newfoundland and Labrador
709
Nova Scotia and Prince Edward Island
782, 902
Ontario
226, 249, 289, 343, 365, 416, 437, 519, 548,
613, 647, 705, 807, 905
Quebec
367, 418, 438, 450, 514, 579, 581, 819, 873
Saskatchewan
306, 639
Yukon, Northwest Territories and Nunavut
867
How to Get a Canada Phone Number Abroad
It's easy to get a Canada phone number while you're abroad, whether it's for temporary use or as a permanent number for your business. Just download the CoverMe app, then create an account in minutes. Once you're all signed up, you can select your preferred city or area code and pick your phone number. It's that simple!
CoverMe offers a variety of local number options, and all of our digits are vetted to ensure they are safe, available, and secured from hackers.
Why Choose CoverMe?
CoverMe is trusted by millions of users looking for a local US and Canada second number. And for good reason. Not only does CoverMe offer Canadian numbers, but their free app also has a whole host of other important privacy and security features designed to keep you safe.
Available on Android and iPhone, CoverMe uses military-grade encryption techniques on all of its incoming and outgoing data, whether that's calls, texts, or sending files. This will help you keep your personal details out of the hands of hackers and telemarketers. Additionally, CoverMe has loads of other great features:
Secure Calling. Security is CoverMe's number one concern, and we constantly update our security protocols to ensure that your personal data and communications remain highly encrypted. Our VoIP technology also means that nothing will show up on your phone bill at the end of the month.
Private Groups. If you want to create a secure arena for group chats, where shared files and messages are secure from hackers and prying eyes, CoverMe is the right option. It also offers the ability to broadcast messages, for communicating with multiple people live and on-the-go.
Private Vault. This handy feature is great for storing personal images and videos and keeping client information or business files secure.
Message Recall and Self Destruct. Thanks to CoverMe's unique platform, you can now send messages that automatically delete themselves after a set period of time and even recall messages after they've been sent.
For users looking for an alternative local Canada number, CoverMe is the complete package. Not only does it let you provide your customers with an easy-to-use toll-free number, but it also protects both yours and their data.