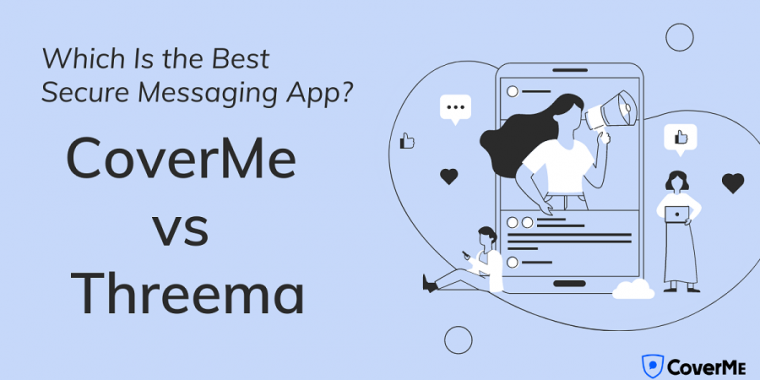 As big tech companies like Facebook and Twitter continue to grow in popularity, there seems to be no end to the number of stories about high-profile data leaks and corporate hacks. Whether it is a celebrity who has had their personal photos shared online, or a company that has lost millions of dollars through security breaches, it is clear that traditional messaging apps like WhatsApp are leaving users vulnerable.
Consequently, many users are turning to secure messaging services to boost their online safety and prevent their details from being used by malicious third parties for crime or advertising. In this article, we review and compare CoverMe and Threema, two highly popular messaging apps with a variety of security and privacy features.
What Is Threema?
Threema is a private messaging app from Germany designed to generate and use as little user data as possible, while protecting that which is generated with end-to-end encryption. Unlike apps such as CoverMe, which is free to download, Threema costs about $1.99.
Threema prioritizes privacy above all else, requiring no phone number or any other personal information to register, such as email addresses or physical location. Using Threema, people can send texts, make and receive voice calls, and send multimedia files and documents. It has a web app version, but like WhatsApp, this is only usable when the mobile device is signed in and online.
With Threema, users can chat with up to 256 people at once, and can verify the identity of message recipients using QR codes when they meet physically. This helps users stay safe from man-in-the-middle attacks.
What Is CoverMe?
Like Threema, CoverMe is one of the leading alternative messaging apps for secure and private communication. You can download the app free of charge on either iPhone or Android, and it uses military-grade end-to-end encryption to protect all the data transmitted through it.
Unlike Threema, CoverMe lets you set up as many alternative numbers as you want, which can be used for messaging and calling anyone with a number in the US, Canada, China, and elsewhere.
CoverMe is also highly focused on security and boasts numerous protection features. It lets you make secure, free calls using encrypted VoIP, send encrypted text messages (SMS) that cannot be intercepted, and create private groups with colleagues and friends to transmit messages, multimedia files like video and audio, and sensitive documents such as PDFs. And it provides you with a password-protected vault to store all your information and never uploads it to a cloud storage system, which is vulnerable to hacking.
CoverMe is an all-in-one security app. It can prevent phone calls and messages from appearing on your phone bill. It also has self-destructing messages, preventing redistribution, and message recall, for quickly solving accidental leaks.
Similarities Between CoverMe and Threema
Both apps are popular and safer alternatives to WhatsApp and Facebook Messenger. They are both incapable of sharing or selling your data by design and represent some of the most advanced security features in the industry at this time.
You can download both from Google Play, the App Store, or their official websites, and they each have a clean user interface with intuitive design features. Also, both offer end-to-end encryption and facilitate group chats and voice messages.
Differences Between CoverMe and Threema
Threema splits its service into four different options. There is Threema Work, a corporate version offering extended administration for a yearly subscription. Then there is Threema Gateway, which is for companies to send messages from computers. There is also Threema Broadcast, for top-down communication like electronic newsletters and chatbots. And finally, there is Threema Education, which requires a one-time payment and is for students and teachers.
This fragmented service is unlike CoverMe, which combines all of its advanced features into a single app, making it highly functional for both companies, individuals and educators alike. Whether you want to use the app to privately sign up to a dating website or establish a local presence for your business in another country, CoverMe has you covered in one simple app. It's the ultimate solution for separating your work and personal life on one device.
Another difference is that Threema gives you a QR code that can help you connect to your friends by scanning it. And you can also synchronize your address book. However, QR codes are insecure because they can be stored outside the app and shared by anyone. Also, syncing an address book can result in information merge, and confusion between your work and personal life. Threema has stated that contact details will be deleted once syncing is complete, though.
Security
Both Threema and CoverMe operation on end-to-end encryption, and neither require phone numbers, email addresses, or any other personal information to get going. That's great for both your security and anonymity. This is the main difference between them and other traditional messaging apps, and even apps like Viber that claim to promote your security.
Where CoverMe shines above Threema, however, is in its self-destructing chats and disappearing messages. These are fully customizable and suited for those who communicate time-sensitive data. This is an important security feature for preventing people from accessing your messaging if they obtain your physical phone.
Alternative Numbers
With Threema, you are limited to one number. This means your personal and business communications all have to go through the same account, which can lead to confusion. CoverMe, however, allows users to set up as many numbers as they want, which is ideal for companies looking to establish a local presence in a particular country or for separating their work from their personal life.
As a bonus, CoverMe also allows users the chance to broadcast messages to people using the Circle feature, whereas Threema would have you download a dedicated app that focuses on broadcasting.
Which Comes Out on Top?
Threema is a good option, but most users find its multiple services too fragmented to be useful. Also, it really suffers from limiting its users to a single account/number. For users looking for an all-in-one solution to their security concerns that functions both for individuals and businesses alike, CoverMe is by far the superior option.