When it comes to finding the right match on Tinder, a solid bio is crucial.
Everyone knows that if you want to discover the best date of yours, you must first confront the majority and then attract as many people as possible who are really interested in you, and finally select the one you like best. What is the best way to obtain the most swipes? All you have to do now is to prepare a great Tinder profile bio that is able to captivate others. If you're having problems crafting your personal bio, this article may be of great assistance.
What Contributes to the Best Tinder Profile Bio?
You might be wondering why a good Tinder bio is so crucial for successful online dating. Just imagine: if you're looking for a date on Tinder, the very first thing that catches your sight before deciding whether to swipe left or right is others' photo, followed by the bio underneath. If he or she appears to be cute, you may instinctively swipe right, since everyone appreciates good-looking ones. But what if his or her appearance isn't the right type for you? It is possible that you'll need to take a close look at his or her bio. And if it's interesting, you may therefore like this person and just swipe right. See? This is how an excellent Tinder bio works to catch your potential matches' eyes.
So what contributes to the best Tinder profile bio? The answer:
The best Tinder profile bio = 1 charming icon (photo) + 1 attractive description
Everyone wants to gain more likes and thus have more possibilities on Tinder, and you are no exception. So, knowing the basic components of a Tinder bio that is a profile together with a photo as your icon, you are able to create the best Tinder profile bio of your own that can help you attract more eyes by knowing what a good Tinder profile is and keeping learning about it. Here are some good Tinder bios for your reference.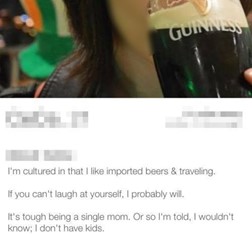 Simple Tips Leading Profile to Stand Out on Tinder
Be honest.
Are you on Tinder just for a hookup or do you want to find a soul mate? You can explain why you're on Tinder and what kind of matches you want to find on your bio, so that others will be honest to you in return. Although everyone wants to be attractive while dating online, being true and honest is equivalently important. Being attractive is for the outside while being honest is for the inside.
Tell others what you like and dislike.
In order to make others get to know you generally, you can tell them your likes and dislikes, or your pros and cons in your bio. As such, your potential dates will be able to be filtered so that only those that are within your domain are left.
Ask open-ended questions.
It always works! Bury a question in your bio increases the opportunity of swiping right because it's human nature to show their wisdom. By noticing the open-ended question in your bio, one who is interested in you will take the initiative to chat with you.
Choose one song you like.
Tinder provides this in-app feature of playing a song you like when others see your bio. If he/she likes this song too and hears the song repeatedly playing at the moment, he/she would probably be interested in you too. Sometimes music speaks louder.
Best Tinder Profile Samples
If you're having trouble generating your own bio, or you don't have much time to create one, you can refer to the following good Tinder bio samples.
Last time I was someone's type I was donating blood.
Being cheesy doesn't mean being boring at all! Cheesy bios can be really effective if they're shown and delivered in the right way. They might be your dad jokes, old puns or knock knocks, and they'll certainly cause laughter in return. Sometimes cheesy bios could be antiquated, but people are still using them because they're really amusing.
Bees are dying at an alarming rate so I'm just here to snatch up all the honey.
Compared with the above sample, this one definitely looks newer and funnier. Funny Tinder bios are extremely popular among Tinder users nowadays, which is because nearly all would be favorite to you if your bio has something that can differentiate you from the public, for example, an interesting soul.
Respiratory Therapy Student: Cute enough to take your breath away, smart enough to bring it back.
Most of the time, a funny Tinder bio really works, as it sounds so easy and catchy that 80% of Tinder users will be interested in you if you have a funny bio. But creating a good funny bio can be challenging and brain-racking, as it takes time to create a 100% original and new thing.
They say nice guys finish last, so I'll make sure you come first. Just bring it. Don't need to look further. Just swipe right and let's hook up.
For men, elegant, suave and slick bios always go right to the point. Most of the people will think it good to act like this, but some may possibly consider it a little bit too straight and thus doubt your motives. Anyway, it's still a good choice for men with confidence. Are you going to use samples like this? It is totally up to you.
Hands down the best catch. Eyes: 10/10. Body: 9/10. Personality: 20/10. Arms: 1/2.
This is an interesting sample bio for girls, especially for those who are not that confident in their appearance (of course, all of us are born to be beautiful in our own way). Most of the time, girls with cute, a little bit sexy and wild bios always attract more boys. But if you really don't want to act that way, an interesting bio is also good for you. Try to be an impressive girl on Tinder by using a bio that points out your personality!
Bottom Line
A best Tinder profile bio = 1 charming icon(photo) + 1 attractive description.
Some useful tips can be used to write your impressive Tinder bio.
If you're having trouble writing your own bio, or you don't have much time to create one, you can refer to the good Tinder bio samples introduced in the article.