Sending a text message is a simple, quick, convenient and popular way to communicate. When there is an incoming SMS or an incoming message from other messaging apps, our phone will show a notification preview. The preview may include who the message is from, or even some details of the messages.
The notification preview can appear even when your screen is locked. This can be convenient to help us respond messages in time. However, it also means anyone who is looking over your shoulder or happens to pick up your phone can easily get access to your message notifications without unlocking your phone. This can be a big privacy issue.
How to Hide Notifications from the Lock Screen
To keep your message notifications from prying eyes, the simple way is to turn off the message notification. Instead of a incoming message preview with the detailed content, you will see a summary like, "New text message received.". On iPhone, you can set your notifications to appear only when your iPhone is unlocked, or never. Similar to iPhone, Anroid users can also set your phone to hide sensitive notification content or not show notifications at all. You can also turn off the notification of some apps in this way.
Another smart way is to disguise the notifications as something you want. You can acheive this with the Custom Notification feature of CoverMe. With Custom Notification, you can change the notification of messages from a specific contact, instead of turning off all the notifications. Instead of the actual messages, you can set up a personalized notifications for incoming messages to hide the contents of your conversation. For example, you can set up messages from Emily as "It is a good day". When you receive messages from Emily next time, it will display as "It is a good day".
Hide Notifications from Prying Eyes
Make Your Notifications Appear as What You Like
How to Configure Personalized Notifications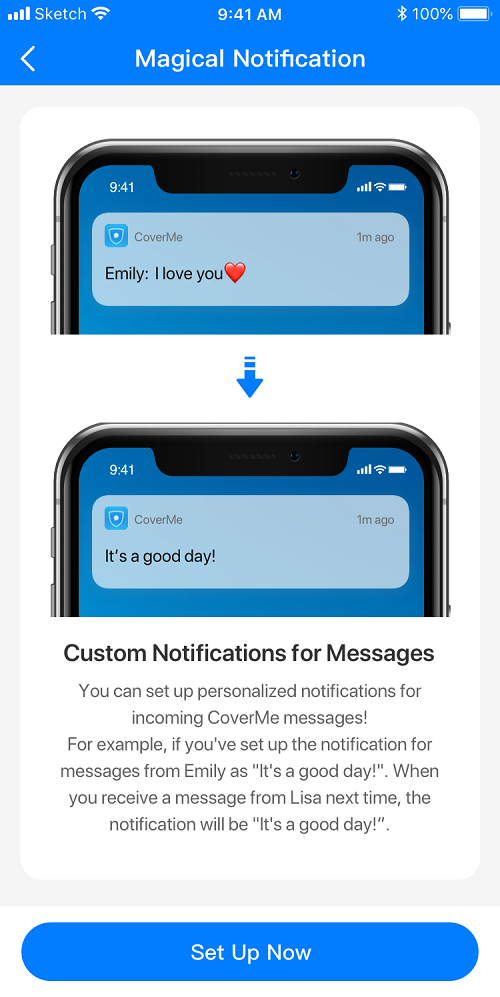 Download CoverMe from Google Play or Apple Store. Register a CoverMe account with an admin name and password. No email or phone number is required. Then click "More" in the middle bottom. Go to the CoverMe Phone Numbers and click "Number". Pull down to find the "Notification Settings". There are three options:
Configure Text Alerts: You can configure alerts for any of your favourite texts.
Calls/Missed Calls Notifications: Don't want others to see that a certain person has called you? Then you can change this person's display name to something unsuspicious, such as "Mom".
SMS/Missed calls/Incoming Calls Notifications: In addition to setting the ringer on or off, you can also select other CoverMe ringtones. You can have a different ringtone every day if you like!