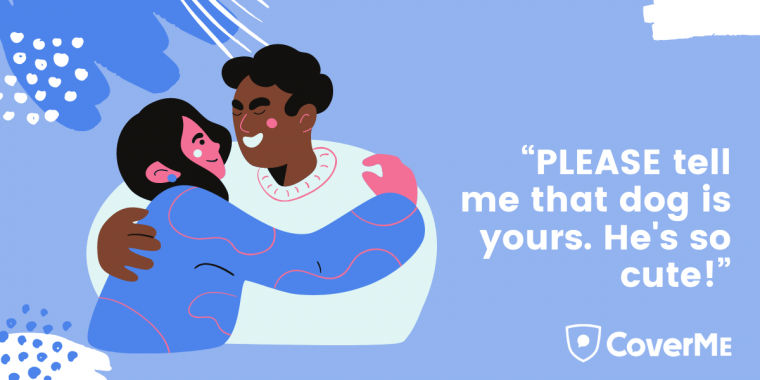 Been using Hinge for a while and getting little positive feedback? Maybe your opening line wasn't engaging enough to pique people's curiosity when they swiped to your message. You're both missing out on a fantastic opportunity to learn more about one other as a result of this. That's why having a catchy pickup line in your dating app is crucial. You need a way to show that you are unique and have a distinct personality.
Pick-up Lines Tips on Hinge
A too simple "Hi" is the least recommended method to start a conversation. Everyone says that. To significantly increase your response rate, you need to use some unique and personal opening phrases. Topics like your birthplace, food, hobbies, and travel, when incorporated into your opening, are all likely to elicit a desire to respond. We've put up a list of the best hinge pickup tips, which you can see below.
Different Pick-up Lines for Different Genders
You can also use different pickup styles for each gender. Boys and girls tend to have distinct personalities and behave differently when it comes to handling words and chatting. For example, in general, women will be more patient than men. Therefore, if the person you're talking to is female, you might choose a long sentence or paragraph to elaborate on your point. But if you're talking to a man, a short, concise sentence seems to get a faster reaction.
Here's more. When interacting with a lady, for example, you might complement her on her social networking platform's stunning cover image, making her feel good about you. If you're dealing with a man, though, you may leverage his shown hobbies, such as automobiles or video games, as an entrance point.
Grasp the Best Moment for Opening Lines
Hitting on people at the right time can also make your pickups more efficient. Waiting in a dating app is a horrible experience. The most important aspect of demonstrating your respect for the other person is to respond promptly. Consider this: if you initiate a pickup with someone you are interested in and you find out that he or she has read but not replied to your message, you might get discouraged and move on to the next target.
The timing of the pickup is just as crucial as the pace of the reaction. If you know the person's university or workplace from his or her main page, you may estimate his or her study or office hours and send a message during that period to improve the odds of a successful pickup. If you don't know anything about the other person, nighttime may be a better choice than daytime.
Different Pick-up Lines for Different Ages
The best opening line to use also depends on the age of the person with whom you are conversing.
—"Is that graffiti your own work? How awesome!"
If you're talking to someone between the ages of 18 and 23, "novel" or surprising openers seem more trendy.
—"Sunday priorities: yoga, sleep, or hiking?"
If you want to chat with someone between the ages of 24 and 28, it's a good idea to start the conversation with a lifestyle or activity-based conversation, such as asking about the person's hobbies and brunch preferences.
—"How did your parents meet and fall in love with each other?"
People between the ages of 29 and 34 tend to have more intimate but insensitive conversations on social dating platforms.
—"SpaceX or Blue Origin?"
Social culture and latest news are ideal conversation starters when talking to someone 35 or older.
Related post: How to Bypass Hinge Verification without Your Private Phone Number
Best Pick-up Line Samples on Hinge
Open-ended, interesting questions are particularly useful for starting a dialogue.
"I see you're from Boston. What was it like growing up there?"
Hometown is one of the best topics to bring strangers closer to each other. Everyone has something to say when it comes to their hometown. The topic is personal and not so sensitive.
"I see you're working in Boston. How's the food there?"
Food, as a necessity in everyone's life, is a good entry point for life topics. To get to know each other, start with what they like to eat and what they don't like to eat.
"I love your artwork!"
Praise and praises are always enjoyable. Because of your affirmation, the other person may feel more confident and desire to learn more about you.
"I've been to the Big Ben, too! How'd you like the trip?"
Travel always brings back good memories. A carefully selected post to a dating app is a picture that is well worthy of attention. Therefore, if you and your partner happen to have traveled to the same place, using the topic of well-known local attractions to resonate with him or her is a great choice.
"What would you like to do in weekends?"
Regardless of the topic of talk, inquiring about a person's interests always draws their attention since they can't help but participate. If your hobbies are similar to his or hers, then there is a good chance that you will develop a further relationship.
"Would you rather …. or …?"
Choose A or B has long been a classic interview style, and it can be applied to any conversation as well. The quick question-and-answer format allows you to quickly grasp the other person's preferences and get to the point. As mentioned before, men may prefer to answer concise questions.
……
Related post: How to Get Unbanned from Hinge
Bottom Line
The best pickup line is based on the characteristics of the person you are talking to, such as age, location, gender, hobbies, etc.
Responding in a timely manner and seizing the right moment to start a conversation is a wonderful strategy and can double the effectiveness of your dating success.