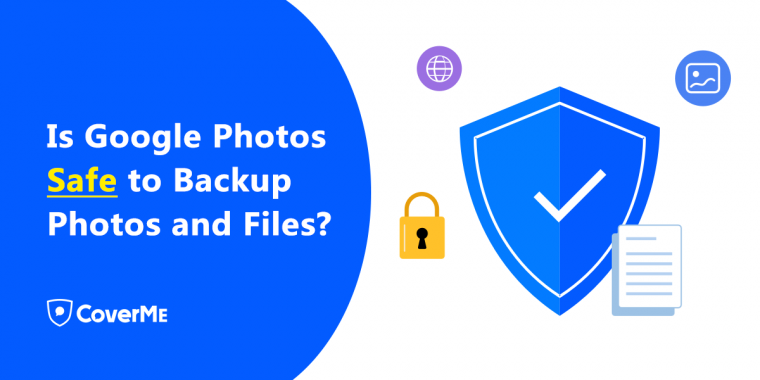 Due to the easy access to various network information and the convenient use of mobile phone camera, we have more and more pics stored in our phones or computers in a jumble. Meanwhile, there is an increasing need for us to keep our massive photos and videos in a place with convenience and security.
Google Photos is a popular cloud storage app with multiple functions that enable you to store your mountain of pics and categorize them into groups automatically. Over 1 billion registered users around the world are making use of its tools. But what most people do not aware is that Google Photos also exits potential risks while using, especially about personal data leakage.
The risks of storing photos on Google Photos.
By providing functions like searching photos of a specific subject in search bar, categorizing your pics automatically and sharing your albums to others, Google naturally gets access to your photos. Therefore, it can scan them for metadata to target you with advertising, which might be quite annoying. For example, if you upload a picture wearing an Adidas T-shirt, Google will identify it as one of your favorite clothing brands and you'll see the targeted advertisement of the brand more often. The more Google know about you, the more accurate the ads will be.
There is also risk of the leakage of your personal data, information can be collected or even be stolen. Through facial recognition, object recognition and geotagging, Google Photos will analyze the content of your photo library and classify them automatically. Since all the photos you saved are telling about your locations, interests, family relations, friends and habits, companies may share your privacy for commercial use and Google can also collect your data for its artificial intelligence advancement or the development of other technologies.
Despite the secure privacy levels, you can't rely on or trust Google Photos completely in case of security breach or accident data lose. Google also had the experience of apologizing for their recent security breach which resulted in the wrong users accidentally receiving the private videos of other users. After all, no one can guarantee the one hundred percent security of any technology. To prevent the possibility of losing your photos, setting up a secondary photo backup would be a good choice. For instance, privacy-focused storage providers of Amazon Photos, OneDrive and CoverMe.
Why dose secure vault important?
In today's world of rapid development of network and information technology, personal data leakage or accounts stolen is commonplace. How can we protect our information online safely? You may get to know the secure vault.
Generally, a secure vault is where all your important files safely stored through encrypted databases. Secure vault plays an essential role in protecting our personal information online and preventing stored messages and files on the app from attacks.
CoverMe is an app focused on private text and anonymous calling, which could also offer you encrypted storage personal pictures with its secure vault. By integrating a password-protected picture vault to hide photos, it allows you to safely store not only your pics or videos but also files like notes, audio and pdf documents, and you don't have to worry about losing them.
For the best security, CoverMe also adopts high-level end-to-end encryption technology, your private passwords, photos, videos, notes and documents are locked in it with cloud backup. Besides, sort out your private photos and share your selected ones are also possible in CoverMe. When you'd like to share your personal photos or videos to your family members or close friends, the private photos and private videos you are sharing will be delivered through encrypted network and no third one will have access to it.