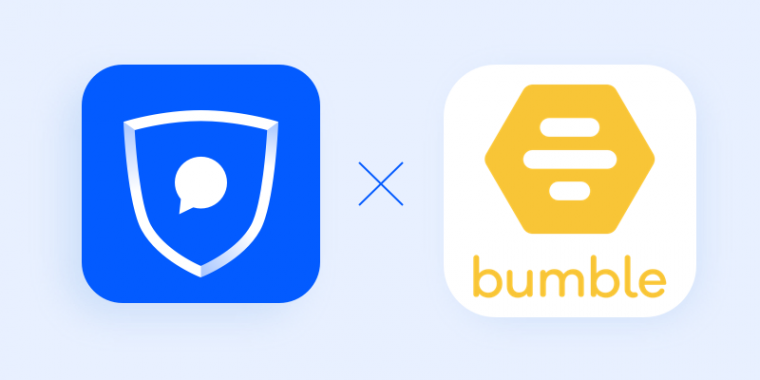 With lockdowns in many countries keeping all the bars and restaurants closed, meeting new people in 2021 has been a challenge. With people stuck at home with little to do apart from browsing their phones, hundreds of thousands of people are signing up to mobile dating apps like Bumble, Tinder, and Hinge.
These platforms often require you to sign up with your mobile phone number. And when you meet someone online that you like, you need a way to meet up – usually by sharing a phone number. But giving away your personal details can be dangerous. There are plenty of scammers lurking on dating apps, and others who may not be who they claim.
That's why it is important to protect your personal safety and privacy by signing up to Bumble without your real phone number, using a fake or alternative one instead. In this article, we'll show you how.
What Is Bumble?
Unless you've been living under a rock, you'll know Bumble is one of the biggest mobile dating platforms on the internet. Like Tinder and Hinge, it lets you plug in your likes, dislikes, and attributes, and then pulls up a host of profiles in your area that match your preferences. Then it's just a case of choosing who you want to talk to.
Bumble stands out from other dating platforms by empowering women. Unlike Tinder or Hinge, on Bumble, it's women who make the first move, helping to set an equal tone from the beginning and disrupt the gender norms of men pestering women.
Bumble is not just for dating. Its new features like Bumble Bizz and Bumble BFF allow users to network professionally and find new friends, making it the one-stop shop for many users.
The Bumble website says that it puts kindness and respect first, hoping to build a safe online community for all its users. But that doesn't mean that the platform is without risks.
Why Should I Get a Bumble Account Without My Personal Phone Number?
Maybe you've seen the famous movie Catfish, where a young man was deceived by a woman with a fake social networking presence. Or perhaps you have been messaged by fake profiles on other social media platforms. Regardless, you probably already know that there are people out there pretending to be someone they're not.
You're not alone. Nearly one-third of people are using online dating right now. And an astonishing 57% of users admit that they lie about themselves while creating their profiles, altering their appearance, location, and names.
Most of those users are fairly harmless. Someone claiming to be 6-foot tall when in fact they are closer to 5-and-a-half-foot tall is annoying, but not necessarily dangerous.
But some real dangers exist. Over half of users say they have been threatened or been subject to abusive behavior while online dating. And people who use online dating apps are twice as likely to experience malware or some other form of IT security incident than those who avoid the sites.
The most pressing danger, of course, is that your personal details end up in the wrong hands. Many share their personal information online – either phone numbers or photos of them or their friends. This can put their safety at risk and even threaten their livelihoods. 9% of users report sharing nude or partially unclothed photos of themselves to strangers online, which can leave them vulnerable to blackmail.
On a large scale, recent research has shown that security flaws in Bumble's programming put the locations and pictures of 95 million users at risk. Worse, Bumble is aware of these vulnerabilities but can take months to fix them.
Staying Safe While Using Bumble
There are some basic safety measures you need while using dating apps. First, avoid meeting up with strangers unless you have seen a video of them using your name. This lets you know they are who they say they are.
Second, let someone know if you are going on a date, where it will be, and when you expect to be back by.
The most important piece of advice, however, is to avoid revealing personal information about yourself whenever possible. The majority of scams and crimes committed on dating websites involve the malicious use of personal data like shared photos.
But the biggest vulnerability is your mobile number. With this, hackers can gain access to all kinds of platforms like your social media sites and your banking apps. Giving out your mobile number can also result in cyberstalking, as users track and message you across every app you're signed up for.
To maintain your privacy and security, then, it is essential to get a second number for Bumble and your other online dating apps. And it has to be an alternative number that actually works, so you can text and call people you meet off-platform without giving away your details.
How Can I Get a Second Phone Number?
Bumble lets you sign up for their account in three different ways. You can use your Apple account, your Facebook account, and your personal phone number.
Use your Apple Account. Your Apple account will often have access to your billing details, so it is best to avoid this method.
You can set up a Bumble-only Facebook account to prevent any cross-contamination with your friends or colleagues who you have on Facebook. However, creating a fake Facebook profile takes time, and you have to put a lot of effort into making it look realistic.
You could also get a burner phone. These are cheap, internet-enabled devices that you can sign up for dating sites with. However, it is inconvenient to have to pull out a separate phone every time you get a message.
The best way to preserve your privacy and safety is to use a second number app like CoverMe, which is free to download.
CoverMe equips you with multiple disposable numbers so that you can sign up to dating websites like Tinder or Bumble without ever having to hand out your personal details.
The best thing about CoverMe is its military-grade encryption protocols. These mean you can message and call people completely anonymously without fear of your details being leaked. It's great for sending sensitive information or just as a dummy phone for hooking up with someone in real life.
While CoverMe can be used just for Bumble, it also has loads of other great features.
Private vaults. The vault is protected by a four-digit pin to hide files on your phone, so you can lock up your digital valuables.
No phone bill entries. The end-to-end encrypted calls and messages will never appear on your phone bill.
Private chatting groups. These rooms let you text, call, send files, photos, and videos, and even broadcast to your friends and potential dates – all over a secure network.
Self-destructing messages and message recall. So, if you send a sensitive photo you later want to remove, you can.
CoverMe is the easiest way to hide your phone number for online dating, so check out the secret number app now.