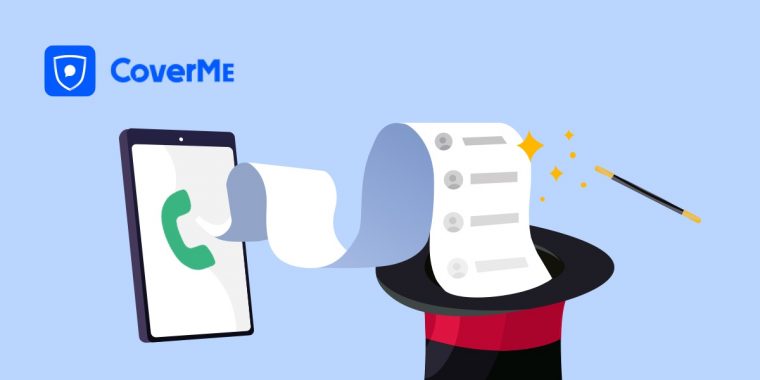 There are plenty of occasions when you might need to hide your number or make a phone call without revealing your details to the recipient or to anyone else who might be trying to spy on the line. For example, you might be making a discrete online purchase, registering for a website that you don't want to have your personal details, going online dating anonymously, or simply just conducting a one-time deal with an individual who doesn't need access to your private number.
Fortunately, there are a couple of easy ways to hide your mobile number, which we will show you in this article. This will enable you to prevent third parties from collecting your data, calling you back with spam calls, and from monitoring and intercepting the calls that you make from your phone.
Why Should You Make an Anonymous Call or Hide Your Number?
We all have a right to privacy. However, in today's world of big data and online communication, it's easy for our details to end up in the hands of companies and malicious individuals. When your number gets into the wrong hands, it can lead to identity theft, digital snooping, and even become a threat to your safety if someone is able to register for sites in your name and track down your physical location.
That's why it is essential to keep your details private, and one of the best ways to do that is to hide your mobile number on all outgoing calls. This prevents companies from collecting your details by default. It will cut down on the number of spam calls and robot calls you receive when your number is shared, sold and resold online.
You don't have to hide your number all the time. When you are calling friends and family, or someone you know personally and trust, then displaying your phone number and caller ID is a useful way for them to identify who is calling. That boosts the security of both parties. However, for practically everything else you do, you should take measures to hide your number.
For example, using chatlines or online dating services is a classic example of when making an anonymous call is needed. These platforms are often great fun, and a good way to meet new people, but you may not wish for the person on the other end of the line to have the option of calling you back – it is a matter of privacy and safety. And you certainly don't want these personal calls getting mixed up with your work calls. So, what are some solutions to these problems?
How to Text or Call without Showing Your Phone Number?
There are several ways to obscure your number from the recipients of a call, and we detail them below. However, it's important to remember that most of these methods have flaws, so your personal data may not be totally secure.
Dial *67 to hide your phone number.
This quick and easy function is available on almost every mobile network, however it may not work if the recipient has chosen to block hidden numbers from calling.
Block your number by default
Most devices, including iPhones and Androids, give you the option of blocking your number by default, however not all carriers permit this feature.
Ask your carrier to block your number
This is great, if your carrier will do it. Not all carriers offer this service, and some are reluctant to give you this option. It is also a hassle to phone them up and arrange it, and you cannot always be sure that they have implemented the feature correctly.
Get a real second phone number
This is an old-fashioned but effective method. Buy a new phone and a new sim card which you only use for private calling. It's like a burner phone. However, the downside is the obvious expense of this and the hassle of having to continually swap phones or swap out phone numbers.
If you are able to follow one of these steps then there is a good chance that when you call someone or message them then your number will come up with a "Blocked" or "Restricted" message. However, these methods are often a hassle to set up and they don't work consistently.
In addition, although your mobile number will be hidden, all of your calls and your outgoing data will still be unencrypted. That means that anyone can still use basic snooping techniques and back-tracing to identify you and your personal information. Additionally, many of these methods are semi-permanent, so there is no way to easily switch between anonymous and non-anonymous calling (you would have to go into your settings and enable or disable the feature, for example).
How to Text or Call Anonymously without Showing up on Phone Bill
A simple, fool-proof method to hide your number is to download and install an anonymous calling app. There are many to choose from, and these apps have inbuilt security features like end-to-end encryption that can keep you totally secure and anonymous across all your devices. They can also help organize your contacts into personal and business categories.
Not all second number apps are made equal, however. Many still fall prey to obvious security flaws. To ensure you are getting the best security and privacy features on the market, you should consider using CoverMe.
CoverMe is a free-to-download app for iPhone and Android that uses military-grade encryption techniques to protect your calls and messages from cyberattacks, online snooping, and spam callers. It also gives you access to as many alternative phone numbers and burner numbers as you need, so you can easily split your personal and business life up and ensure you remain anonymous when you want to be. Its end-to-end VoIP encryption service is automatically integrated throughout its app, meaning all your data will be secure and safe from prying eyes.
Open Apple App Store or Google Play Store on your smartphone and search for a private texting app using keywords "private text message".
Download CoverMe, Open it and Sign up.
Enter "Contacts" and Tap "Add a Private Phone Number".
Enter an American or Canadian area code to search for numbers.
Pick a number you like best on the list.
Then you can start texting.

CoverMe also has loads of other features to keep your privacy intact.
Secure Vault. The CoverMe app comes equipped with a secure, password-protected vault for you to store all your private correspondences, images, videos and files. It's a great way to ensure prying eyes don't see your secrets.
Disappearing messages. This feature, combined with message recall, means your messages are always in your control, even once they've left your mobile device! If you sent something by mistake, just recall it. Or if a document is time-sensitive, have it self-destruct after a set time.
Private Messaging. The group chat and encrypted messaging service hosted by CoverMe boasts the same military-grade encryption as the rest of its services. You can send messages and videos or even broadcast to a group securely – great for business or pleasure!
Anonymous Calls, No Bills. Another handy privacy feature is that CoverMe's anonymous calling feature doesn't show up on your bills. That means the people you live with can't snoop through your call history and invade your privacy.
CoverMe is the ultimate solution for anonymous calling and hiding your mobile phone number, but it's also the best in the business for total online protection.