As a powerful private communication and privacy protection app, CoverMe provides multiple subscription plans tailored to the needs of different groups. CoverMe users are able to choose the right plan with the help of the guide below. By the way, we also launched our new iOS version last month, and we will introduce some of the exciting functions in this article, too.
Basic Plans of CoverMe
We divide our basic schemes into three categories.
Numbers for the United States and Canada
Numbers for Australia and Austria
Numbers for other regions or countries
The price of each plan also differs
Phone Numbers for
United States and Canada
To acquire your US or Canada phone number, you have the option of paying $9.99 per month with 200 texts and 200 minutes or $99.99 per year with unlimited texts and 3000 minutes' calling.
The half year scheme has two versions with different features for you to choose. The $37.99 one gives you 900 texts and 900 minutes and the $39.99 one offers you 2500 texts, 300 minutes and a 7-day free trial.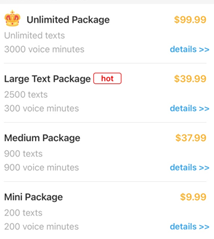 Phone Numbers for Australia or Austria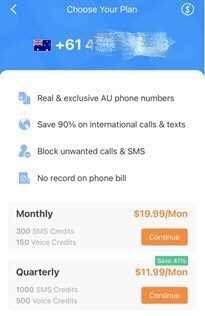 You can purchase your Australia or Austria number with $19.99 per month or $35.99 per quarter.
The monthly plan gives you 300 SMS credits and 150 voice credits, while the quarterly plan gives you 1000 SMS credits and 500 voice credits.
Phone Numbers for other regions or countries
The monthly fee for numbers in other countries is relatively low—$9.99 with 300 SMS credits and 150 voice credits, while the quarterly fee is priced at $20.99 with 1000 SMS credits and 500 voice credits.
How to Choose the Right Plan
Except the regions, you are able to select an appropriate plan flexibly according to your needs, notably call numbers, text amounts, long-term or short-term needs.
In particular, the four schemes for the U.S. and Canada area numbers are tailored for different user needs. The $39.99 half year set is the most popular one and our first recommendation, which is perfect for people who need to keep their number for a long time and send a large amount of texts. You can obtain a 7-day free trial on your first purchase of it. While the $37.99 half year set is suitable for people with more calling needs and require a long-term use number.
The monthly plan is designed for people who need a temporary number and don't have great demands. People who are satisfied with CoverMe and need a long-term use number to frequently make calls or send messages can choose the yearly plan.
Notice: iOS users can buy 80 credits for $1.99 at any time. Generally, one-minute call or one text costs 1 credit. However, it may vary because of the different rates of different operators in every country.
Features and Functions of CoverMe Plans
You can acquire your real private phone number after subscription to make calls and send texts domestically or internationally at a low-cost. Featuring end-to-end encryption, only the receiver can read the private messages and no third party will have access to them. Secure vault offers a secret place capable of storing all your sensitive files, such as personal photos, videos, confidential documents and passwords on your device. By the way, your private messages can be programmed to self-destruct on CoverMe.
You can learn more about our features on our website.
Our New Premium Feature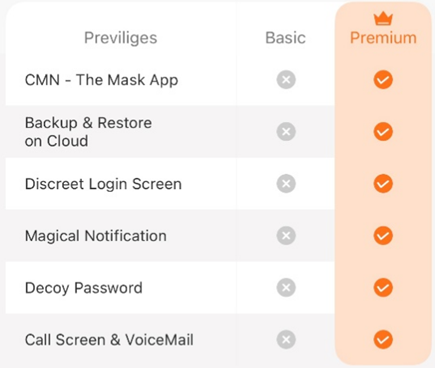 CoverMe team always strives to provide users with better products and services. We just upgraded our iOS premium service package in July, and the Android version will also be available soon.
The previous premium version was a one-time lifetime buyout of $5.99. According to different capacities, cloud storage is priced at $1.99 for 1G, $9.99 for 4G and $19.99 for 16G. So here is what you need to know about our changes.
Our new CoverMe Premium is specially designed for users with more needs for privacy. It comes at $29.99 for one year, and the advanced features are merged with cloud storage. You can access the below six powerful privacy protection functionalities after buying your premium account.
Meanwhile, the magical notification is also effective in keeping you away from prying eyes. Notifications that you receive for messages in a private chat contain no message preview. You are able to set up personalized notifications to hide incoming messages as well.
Aside from that, the app will totally become a common album by simply shaking your phone. You can pretend to be browsing usual pictures when sending private SMS with CoverMe in public places.
In the private vault of CoverMe, you can safely store or backup all kinds of files on one place, include photos, videos, passwords and documents, all of which will be completely secure with strong protection of dot-lock and impermeable encryption.
With a CoverMe premium account, you can also block any unwanted calls and send voicemail to your contacts easily.