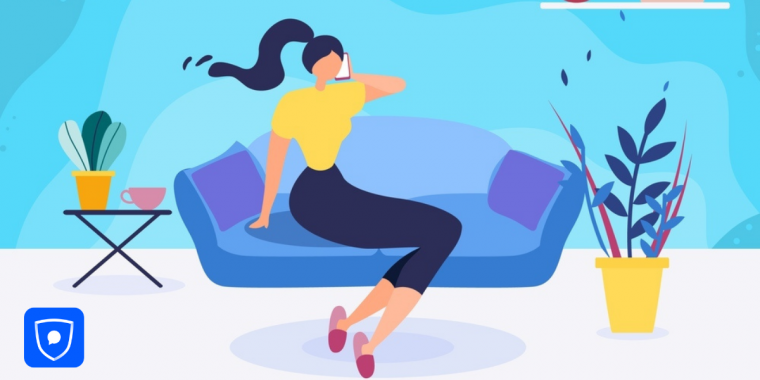 Sometimes, in order to create an account on a website, you have to provide your phone number to the service provider for identity verification. However, the relative risks may appear as the network is indeed unsafe nowadays. For example, if you want to register for POF to start an online date, offering a number to the company seems inevitable, as you have to comply with privacy and security regulations. However, the fact is, once your number is enrolled in the database, you'll receive marketing messages and even calls from POF nearly every day. How annoying! Therefore, if you want to have a POF account but don't want to disclose your number, you'd better provide a fake number.
Why and When to Use a Fake Number App?
A fake number can be known as a temporary number that you can use and dispose of at random. It can not only help you register some accounts that require your number, but also prevent you from potential risks like privacy disclosure. It is for sure that a fake number will benefit you a lot, but you cannot get it easily. That is to say, you need to access a fake number through some special channels, for example, fake number apps.
The reason why you need it is whenever you register an account, the service provider will access your number for safety reasons, without which you'd lose the chance to get your account. However, as is all known, your privacy is bound to your real number, and it is very likely to be leaked because of the insecurity of the internet. Want to get a fake number but don't know how? Well, a good fake number app matters.
7 Best Fake Number Apps in 2022
Here are the Top 7 fake number apps in 2022. You can choose the one that suits you most.
CoverMe
CoverMe is the ultimate secure app in which you can send private texts, make private phone calls, and share your personal photos & videos under an impenetrable vault that protects your secret contacts, call logs, messages, documents, notes, passwords, and private photos & videos from prying eyes. Features are listed below:
Disposable phone numbers
Disappearing messages
Secure vault
Anonymous calling
Private text
With CoverMe, you can:
Make free secure phone calls
Send self-destructing text messages
Hide all your sensitive files and passwords in the vault
Invite your friends via Facebook, Twitter, email, and text message
Burner
Burner is one of the best private phone number apps. It provides a second phone number for calling, texting, and picture messaging.
Features are listed below:
Offers unlimited phone numbers
Allows you to dispose of phone numbers anytime
Supports text messaging, voice calls, and MMS
Offers automatic reply option
Custom voicemail greeting
Supports call forwarding and texting
With Burner, you can:
Create as many simultaneous local numbers as you need, in any U.S. or Canadian area code.
Calls and texts work through your fake phone number.
Keep numbers as long as you want, and burn them whenever you like.
PrivateLine
PrivateLine is an app with encryption authentication, digital signature, remote launch applications, file sharing and other helpful features.
With PrivateLine, you can:
Get a dedicated number for online dating.
Burn/replace numbers anytime.
Text messages and send calls unlimitedly.
Use multiple numbers within one phone.
Lock all private photos and videos.
Enjoy End-to-end encryption.
Send messages anonymously.
Hushed
Dingtone is an app that allows you to make free calls to any phone number.
Main features are listed below:
It offers local numbers to choose from in over 300 area codes in the US, Canada, and the UK.
Customizable Voicemail Greetings, Auto Reply Text Messages, Call Forwarding, Call Routing.
It allows you to get access your account on any device connected to WiFi or data.
Integrations with Slack and DropBox.
With Hushed, you can:
Make and receive calls like any regular phone number
Send and receive texts, gifs, pictures and audio messages.
Separate your personal and business life with multiple lines
Record and customize unique voicemail greetings
Set up a call forwarding number to redirect your incoming calls

Send and reply to messages directly through Slack

Save voicemails and message history to your Dropbox account
2ndLine
2ndLine is an app which offers a second phone number in your phone that allows you to send messages and make VolP calls.
2ndLine offers you a chance to:
Get a phone number with unlimited free texts and calls.
Record any incoming calls.
Enjoy a Crystal-clear voice quality to improve your call experience.
Block any unwanted spam caller once and forever.
Record a custom voicemail greeting to improve callers' first impression.
Directly forward your calls to any number you like in a few steps.
Enjoy unlimited calls and texts without being disturbed by ads.
Sideline
Sideline is an app that allows you to protect your privacy, create a professional identity, prioritize calls, connect with customers, add team members, and get more things done.
Sideline gives you a chance to:
Have a 2nd number to simplify work and life.
Make it easier to communicate with your colleagues via messaging tools.
Automatically reply to others whenever you are busy.
With Sideline, you can:
Transfer an existing 2nd number from another phone to your device
Add multiple people to the same conversation.
Differentiate your 2nd number with sideline's custom caller ID.
Read your voicemail transcriptions anytime and anywhere.
Send unlimited texts, pictures, or video messages.
Record and manage multiple personalized or professional voicemail greetings.
Vyke
Vyke is an app revolutionizing how people communicate with up to 4 additional mobile numbers, free calls & chat and low-cost calls & SMS to anyone.
With Vyke, you can:
Get a second number.
Stop nuisance calls.
Know and control people who have your personal number.
Make it simple to use mobile phone.
Keep your personal number private.
Make free online calls and chats.
Customize each Vyke profile.
Personalize each voicemail.
Set up your free time.
What Can a Fake Number App Do?
Here are the main functions of fake number apps.
It allows you to choose a phone number by yourself.
It allows you to burn/delete the number whenever you want.
It offers you a "do-not-disturb" feature.
It offers you a flexible payment operation.
It offers you an organizational feature that allows you to manage your data.
Bottom line
If you want to protect your private information, a fake number is needed.
A fake number app allows you to choose and delete the numbers anytime.
There are 7 best fake number apps mentioned above, and you can choose one that suits you most.