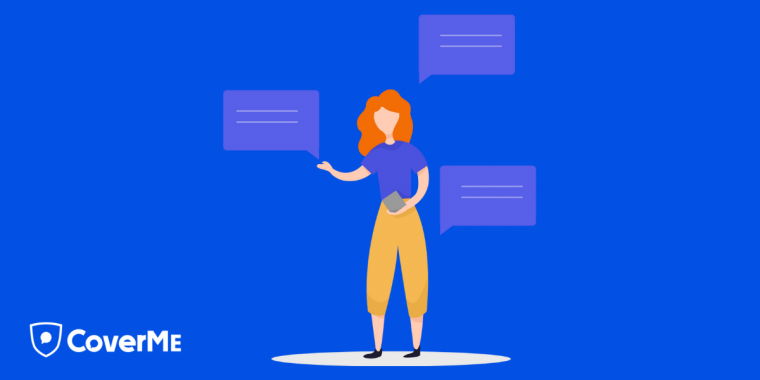 Have you ever felt hesitant to call or text from your primary phone number? Maybe it's because you want to keep your work and personal life separate, or maybe you just want to make anonymous complaints. So, how do you get a second phone number? Are there any viable options? Check out this article and you'll get some inspiration.
Why Do You Need to Text from a Different Number?
Here's a list of reasons why you probably need to send a text message from another number.
Protect Privacy
The most likely reason is that you want to keep your personal information private. It is tough to assure that your privacy is not compromised in this information age. However, proactively revealing less of your real number can help reduce the risk of online spying. Choosing a less significant number and hiding your true identity behind a second number is a practical strategy.
Stay Away from Junk Emails
Are you always receiving marketing and fraud SMS messages? Turning off SMS notifications completely or deleting your subscription with each brand are not the best options, since there are several risks involved. As a result, it's a smart idea to delegate the task to your second number. Leave your second number if you need to subscribe to online services and your private number is only used for communication with friends and family.
No Need to Leave a Personal Number
You don't need to give out your personal phone number in all cases. For instance, when you want to purchase or sell on Craigslist, when you want to take a taxi using Uber, or when you want to donate clothes anonymously, an extra number can be used for each of these tasks for privacy protection.
Separate Life and Business
Always receive messages from your boss and clients during off hours? Too many social software notifications popping up at work reduces productivity? By transferring your work content to another mobile number, your work and life will be separated and become organized.
Send Prank Texts
For people who like to play pranks, they need to use different numbers to send text messages and joke with their friends to stop being caught as they receive prank text messages or calls. This is especially common during holidays, such as Halloween, Christmas, or April fool. With a different number, you'll be able to "surprise" your friends and family whenever you want.
Where to Get a Different Number to Text?
There are many different ways allowing you to have a different phone number:
Get a SIM Card with a Different Number Plan
This should be the first method most people would think of – buy another SIM card and get another number. However, there are very few dual SIM phones on the market now, which means you may need to buy another new phone to install your newly bought SIM card – and in fact you may not need a second phone at all. In this way, the cost of this procedure is actually very high.
Get a Burner Number SIM Card
You can also buy a temporary number, but it's not cheap either, and again, you'll still need to have another phone to use it. These cards are not as commonly sold as regular SIM cards. You may have to go to a special digital market or a well-known convenience store to buy one. That isn't always available anywhere.
Get a Number to Text on a Number App
In fact, besides SIM cards, there are more and more communication apps that can provide users with a second number. You can choose one, local or international, according to your needs and preferences. This method is not only more convenient but also less costly.
Top 5 Number Apps to Text in 2022
Google Voice
In Google Voice, you can get a phone number for calling, text messaging, and voicemail. It works on smartphones and computers and syncs across your devices so you can use the app in the office, at home, or on the go. However, Google Voice only works for personal Google Accounts in the US and Google Workspace accounts in select markets. Text messaging is not supported in all markets. If you do meet the requirements above, you can get a second phone number from other number apps as below.
In addition to using Google Voice for calls, texts, and voicemails, you can also:
Read voicemail transcripts in your inbox and search them like emails.
Personalize voicemail greetings.
Make international calls at low rates.
Get protection from spam calls and messages.
Block unwanted callers.
Screen calls before you answer.
CoverMe
In CoverMe, you can get one or more one-time phone numbers for text messages and calls for your different business and social life.
On top of that, CoverMe's strong security features make it stand out from other applications and it is especially suitable for those who want to hide their important information.
Unique features you can find in CoverMe:
Disappearing Messages: Message can be set to self-destruct if you want, so that no one can snoop your conversation.
Secure Vault: CoverMe has a safe vault to lock your private photos, videos, passwords, notes and documents with cloud backup.
PrivateLine
Looking for a number dedicated to online dating? PrivateLine can satisfy you. It offers a lovely UI, with a pink color scheme and a nice design that many female users adore. Furthermore, it is risk-free to use. Sending messages through an online dating messaging system may not be as easy to use as instant messaging systems like SMS or Messenger, but it does add a protective layer to protect your privacy.
Other features of PrivateLine:Multiple Numbers
Lock All Photos & Videos
Burn Numbers Anytime
Unlimited Texts & Calls
End-to-End Encryption
Send Messages Anonymously
Dingtone
Among all the free number apps, Dingtone is the best which has already gained over 30 million users' praises. What Dingtone offers you is a chance to call and text totally and really free, that is to say, you can make free or cheap phone calls to anyone over Wi-Fi and 3G/4G/5G data networks without using any cell minutes. In short, if you seek for a cost-effective number app, Dingtone is really worth trying.
Other features of Dingtong:
International SMS

Conference Call
Call Recording
2ndLine
2ndLine is a second phone number system for smart devices! It gives you a 2nd phone number as a sideline on your smartphone to let you call and text for personal and for work separately. It is the easiest to operate compared to other software that provides numbers.
Powerful Features
Unlimited free texts and calls: Call and text unlimited to US and Canada.
Quality calls: Crystal clear voice quality to smoothen your call experience
Custom voicemail: Record a custom voicemail greeting to prompt callers to leave a message
Spam call blocking: Block any unwanted spam caller once forever
Call forwarding: Directly forward your calls to any number you like in a few steps
Call recording: Record any incoming & outgoing calls while keeping the voice quality
Ad-free experience: Enjoy unlimited calls and texts without being disturbed by ads
Bottom Line
A different number can protect your privacy, keep you away from spam and separate your life and work.
There are many ways you can get a different number – buy a SIM card, get a burner phone, download a number app. Among them, using a number application is the best because of its low cost and high convenience.