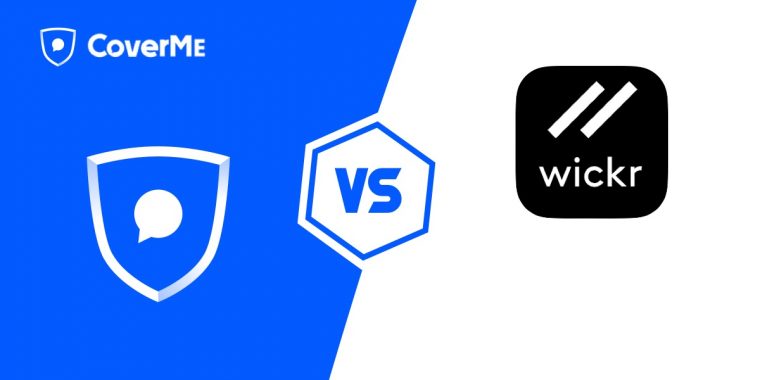 In an age of mass electronic surveillance and bulk data collection, our right to privacy is being unreasonably violated. Every day, our online activities of browsing, sending messages, typing, and talking, which have become an integral part of our daily life, are being closely monitored, tracked and analyzed by the service providers. Faced with data breaches and cyber-attacks, privacy has become one of the most precious commodities in today's digital world.
As individuals, we may sometimes feel that the prevention of hacker intrusion and the vulnerability of our mobile phone apps are beyond our control. Prying eyes seem to be everywhere. However, we are able to mitigate the risk of privacy leakage with the help of external forces. Wickr and CoverMe are two powerful tools in the cyber security field focusing on protecting your privacy. Let's take a closer look at them in the following content to summarize the security comparison.
What is Wickr?
Wickr is an instant communication software dedicated to providing a secure communication experience for individuals, enterprises, and government agencies. From video conferences to group messaging and file sharing, all of your information and activities can be fully encrypted with Wickr.
As it introduced on its website, it does not store any metadata associated with your communications and no phone number or email address is required when users try to create an account on Wickr. It claims to be the most trusted and secure messenger platform. For different groups, it has launched four use schemes, with prices ranging from $0 to $25 per month. Additionally, multiple download versions of Wickr are available to support different operating systems and devices such as Windows, Mac, Android and Linux.
Why is CoverMe A Great Alternative to Wickr?
CoverMe is a secure messaging app similar to Wickr. Both apps support end-to-end encryption, disappearing messages and group chat. Both apps do not require emails and phone numbers to sign up and do not provide password recovery services. CoverMe is a great alternative to Wickr.
End-to-end encryption
Both apps are featured with end-to-end encryption (also known as E2EE), a cryptography technology that is used to ensure data is securely transferred between recipients. All the messages to be shared will be delivered through an encrypted network and no third party will have access to them. Meanwhile, all files, photos and videos can be locked in cloud backup through end-to-end encryption, bringing forward higher security to personal data.
Disappearing messages and recall messages
You can set the expiration time of all your messaging content on Wickr, which means you are able to reserve the texts or delete them as long as you want. Similarly, private messages can be programmed to self-destruct on CoverMe. In this way, you get full control over your sensible information on your devices successfully.
Group messaging
As we all know, group messaging is a very common and basic function in communication apps. There is no doubt that it is also accessible on CoverMe and Wickr. You can send your edited texts to multiple designated contacts instantly.
No phone number or email required
Unlike other apps on the application market, Wicker does not require a phone number or an email address to sign up. And there is no link between the user's phone number and CoverMe account, which greatly removes the chance of a hacker using the SS7 deficiency to get access to a user's account.
No log (Data is only saved locally on the device)
Your contact list and information are kept private and are not saved on the servers. Data is only stored locally on the device, which helps to reduce the risk of information leakage to some extent.
Does not provide password recovery service
In order to protect user privacy more effectively, neither app provides password recovery services. But there is also a slight difference. If you forget your password completely on Wickr, the only thing you can do is to create a new account, while CoverMe users can still recover it through multiple levels of verifications.
CoverMe Can Provide More Features for Privacy Protection
Private Phone Number
Private phone number is the most fundamental feature of CoverMe. The additional line or second phone number will enable you to make anonymous calls freely and create a private messaging experience. There is no doubt that a second phone number is a useful and wonderful tool for business communication, online dating and some short-term projects.
Secure Vault
It is a secret place capable of storing all your sensitive files, such as personal photos, videos, confidential documents and passwords on your device. With strong password and end-to-end encryption, you can hide and sort out all your files or share them with your contacts safely.
Automatically record and notifies about break-ins
If an attacker tries to break into a user's CoverMe account, the phone's front-facing camera will take a photo of the intruder, record the time and location of the break-in, and send the user an alert. Totally protect you from being hacked.
Bottom Line
Obviously, CoverMe and Wickr are outstanding platforms that integrate communication and privacy protection. After careful analysis and comparison between the two apps, we can find that both are excellent in terms of securing your privacy with functions such as end-to-end encryption, message disappearing, group messaging and no personal data recording or tracking.
However, CoverMe has more prominent features like a private phone number and secure vault. Ultimately, it seems to play a more significant role than its competitors.
Still Leave Your Phone Naked?
Secure your texts and calls with CoverMe!