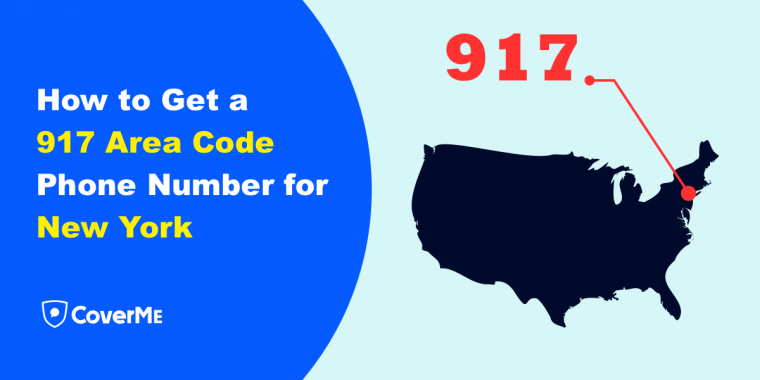 917 may be the most famous area code in the world, covering the Big Apple, New York. Home to some of the biggest businesses in the United States, a booming tourist attraction, and a bustling epicenter of American city-living, New York has it all. Comprising five densely packed boroughs crouched around the Hudson River, the city's commercial, financial and cultural sites are an iconic reminder of the American Dream.
Where Is the 917 Area Code?
Manhattan is famed for its high-rise offices and bustling financial headquarters, and it claims the 212 area code. But the classic New York code is 917. It covers parts of Manhattan too, but also four other boroughs including Staten Island, Queens, Brooklyn, and The Bronx. Think of 917 and you think of all of New York's greatest sites – Times Square, Central Park, Coney Island and Broadway. Packing 8.3 million people into just 300 square miles, the 917 area code is perhaps the busiest in the world. So, if you're a business wanting to set up a virtual office in New York, you want the 917 area code. Thanks to CoverMe, you can get one in no time at all.
The Time Zone of the 917 Area Code
As you would expect for a city that was part of the original thirteen states of America, New York uses the Eastern Time Zone, which clocks in at UTC-05:00. It also follows daylight savings time, so make sure to check your calendar when calling in from outside the country or state.
New York is the biggest city in the country and shares its time zone with the nation's capital, Washington, DC. That means that most of the nation is using the same time zone that 917 sits in, making it ideal as a business location.
The History of the 917 Area Code
There are few other area codes in the world more coveted than the New York 917 one. But it has had some stiff competition over the years. The 212 area code was actually in place before the 917 code was, and it served almost all of New York's individual boroughs.
In the 1980s, however, it was decided that according to the North American Numbering Plan the state was getting so populous and busy that it needed to be split. At first, Brooklyn, Queens, and Staten Island got the 718 area code, with Manhattan and The Bronx keeping the old one.
But with the birth of mobile phones and pagers, these two area codes quickly became too busy and landlines were unable to get good service. In 1992, the decision was made to switch over to 917 for all mobile phones and pagers. This was actually against FCC regulations, but by then it was too late – the 917 was too popular and had come to symbolize the status and wealth of the New York businessperson. Now, if you want to look like a New Yorker, you need a 917 area code for your number. Fortunately, that's where CoverMe can help.
How to Get a 917 Phone Number in CoverMe
You can get an alternative business or personal phone number with the 917 New York area code in a matter of minutes when you use CoverMe. The app can be downloaded from the App Store or from Google Play, and you can create an account and get a local number instantly. Just follow the on-screen instructions.
The CoverMe app is a convenient way to get a local phone number in any number of countries including the US, Canada, the UK, Belgium, Australia, the Netherland, France, Denmark, Poland, Austria and Sweden. Even better, CoverMe's customization options allows you to select specific locations from each country and identify the area code that's best for you. So, getting a New York 917 number is just a matter of picking it!
A CoverMe number operates just like a regular number. You can make calls, send texts, and sign up to social media sites with it. It's also completely disposable or ultra-long-life. You can choose. Once you're done with the number, simply hit delete and it and its associated data will be wiped from your device and from our servers, so no one will ever know it existed. This is just one of CoverMe's essential safety and privacy protocols that will keep you safe. That are many more, as we will see below.
With a CoverMe number, you can do the following:
• Balance your work and personal life
• Create a unique number for your business
• Use the number to buy and sell on Amazon and Ebay
• Sign up for social media sites like Facebook and Twitter
• Protect your privacy online by only ever handing out a burner phone number
• Encrypt your messages to ensure no prying eyes can read them
CoverMe's Additional Security Features
CoverMe is the ultimate solution for all your online and communication security needs. It's a free, downloadable app that utilizes military-grade security features such as end-to-end encryption, which keeps you completely anonymous online and prevents hackers and cyberstalkers from gaining access to your details. It also prioritizes high-fidelity call quality and top-tier customer service.
With CoverMe, your 917 New York number will be able to create, send, and receive phone calls, texts, group messages, and documents – all encrypted and never stored on our servers.
CoverMe also has a number of other additional security features:
Personal Vault. CoverMe's personal vault is a high-security safety deposit box that allows you to store your files, contacts, messages and photos in on your phone. We never use cloud backup, either, so your personal info isn't left unencrypted on our servers.
Message Recall. CoverMe also lets you recall messages after you've sent them, ensuring that none of your private conversations accidentally end up with the wrong recipient!
Self-Destructing Messages. CoverMe provides the option for self-destructing messages, so there's no chance for your conversations to be redistributed and shared without your consent.
Multiple Numbers. CoverMe lets you set up multiple phone numbers on the same device, so you can keep your work life and your personal life separate.
So, what are you waiting for? If you need a 917 area code, download CoverMe today by clicking the link here.