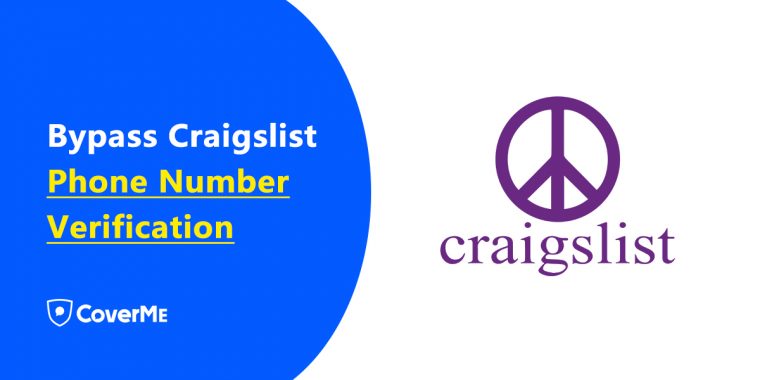 Craigslist has been one of the world's leading classified advertising service platforms. The classified information on the website includes job hunting, housing rental, domestic service, even looking for a lover, and so on. If you are appealed by this platform, you should learn this knowledge in advance.
Why is a Phone Number Required for Verification by Craigslist?
When creating an account, you cannot bypass one step, which is phone number verification. Phone number verification maybe already not be strange for you, especially when an online service is used. The purpose of it is to reduce the amount of junk data generated and thus reduce the cost of operating and maintaining a platform. Besides, phone number verification plays a role in protecting users' account security and establishing a solid and effective barrier for users' personal information and property security. Of course, the phone number you've left on Craigslist is also the only effective way for the buyer or seller to contact you. Without it or the number is unreal, the service line will lose efficacy.
Why is it a Bad Idea to Use Your Personal Phone Number on Craigslist?
However, leaving a real phone number on some website is, unquestionably, a double-edged sword, that is to say, someone important can contact you timely, but some bad guys will harass you too via the phone number you leave. What is even terrible, a phone number is usually bounded with personal information, such as bank account, identity number, and home address. You may suffer from information leakage once leaving your phone number on some apps. So, it is better for you not to enter your real phone number when applying for an account. Take Craigslist for an example, as a seller you may receive a large number of harassing calls and texts after uploading selling information and personal phone number.
How to Pass Craigslist Phone Number Verification without a Private Number?
Although you have tried your best to avoid entering a real phone number, the fact is that you are asked to enter your number, otherwise you cannot acquire an account successfully. What you can do to solve this dilemma is to bypass the verification with the help of a 2nd number, which can be regarded as a temporary number or burner number. A 2nd number can be defined as a disposable number, which allows you to use and delete anytime, with which you can complete phone number verification successfully.
How to Bypass Craigslist Phone Number Verification with CoverMe
Here are the detailed steps for you to follow in order to pass phone number verification.
Step 1. Download and install CoverMe.
You can download CoverMe from Google Play or App Store and install it on your device.
Step 2. Purchase a 2nd phone number.
Open CoverMe and buy a 2nd phone number according to your requirement.
Step 3. Create an account on Craigslist.
Register for Craigslist based on the step-by-step guide on its website or application.
Step 4. Pass phone number verification.
Enter your CoverMe number at the corresponding blank and get a verification code from the CoverMe messages from the application. Then, fill the verification code in the right place to complete registration.
Bottom Line
A valid phone number is called for verification when users create accounts on Craigslist and this step can never be avoided.
Get a 2nd number phone can help you bypass verification without a real phone number to deal with huge temporary cases.