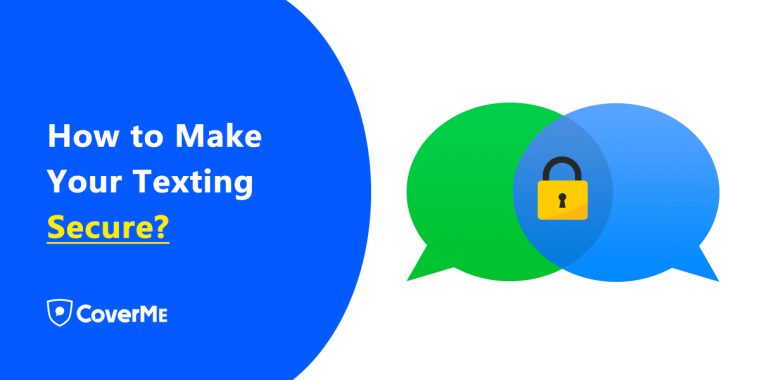 SMS messaging was once the go-to for sending short messages to other people, and it is still an inbuilt feature on every mobile device sold today. Many network providers even offer free SMS texting, letting their users send an unlimited number of messages domestically.
However, SMS messaging is not the safest mode of communication due to the numerous security shortfalls inherent in the technology. Here, we explore why SMS is problematic and give some guidance on what services you can use instead to ensure messaging privacy and security.
How Does SMS Work?
Just over a decade ago, in 2010, SMS was the most widely used data application in the world. It had more than 3.5 billion users and was included in 80% of mobile subscription services. Based on standard communication protocols, SMS messaging lets users send messages of up to 160 characters to each others' devices.
The first SMS message was sent in 1992 and simply read "Merry Christmas", but since then the service exploded and became the most common communication method for individuals. It is a service optimized for telephony, hence its character limit and its use of the signaling paths that telephone traffic uses. This meant that every mobile station could utilize SMS with a simple software upgrade.
SMS works simply enough: you send a message, it travels to a cellular tower in the vicinity over the control channel, and then it enters an SMS center. From there, the center forwards the message to the tower that is nearest to the recipient, and it subsequently gets pinged to the mobile phone on the other end. But is this really a secure form of communication?
Is SMS Encrypted and Safe to Use?
Although it is widely used, SMS messaging is not safe enough. For a start, it uses no encryption algorithm techniques whatsoever. That means that were someone to intercept the message, they could read it without having to know a password or use any form of hacking device.
Another reason that SMS is insecure is due to the route that the message takes on its way to the recipient. Between your device and the device of the person that you are texting, the mobile service provider will receive and process the message at their data center before sending it on to the person that you texted. This means two things. First, they are able to read your messages. Second, if their data center is subject to a cyberattack or data breach, then all of your messages and private information could be leaked.
Because SMS messages are sent unsecured over the airways, it is possible for governments and third parties to use very simple devices to intercept these messages. They might then sell this data for marketing purposes or use it to spy on you, depending on their intentions. Alongside the content of the message, your phone number and the phone number of your friend's device will be visible, which means that identifying information can be gathered with ease and used against you.
What is End-to-End Encryption?
To secure your messages, there is really only one good option: end-to-end encryption. This technique uses complex algorithms to scramble messages such that only the sender and the intended recipient can unscramble them. The encryption happens on either end of the communication and doesn't rely on some third party to encrypt the data (thereby being able to read it themselves).
The most common way that encryption works is by mathematically generating two cryptographic keys for your device. One is public, and the other one is private. Anyone who wants to send you a message has access to the public key and can use it to encrypt a message to you. Then, only your device with the private key can unencrypt it.
End-to-end encryption is far superior to transport layer encryption, which uses someone like a tech company to encrypt the messages. Law enforcement agencies can easily read this data by instructing the tech company to unlock it. Facebook used to use this to encrypt Facebook messages, and the company received a lot of flak for how insecure it was compared with a service like WhatsApp.
How to Encrypt Text Messages on Android and iPhone?
While there are plenty of messaging apps out there that offer end-to-end encryption, very few go to the extraordinary lengths that CoverMe does to boost your security. Free-to-download, CoverMe uses high-level end-to-end VoIP encryption technology – the same type of technology used by military forces to protect their information.
CoverMe's cutting-edge encryption algorithms are effectively crackproof thanks to the advanced algorithmic generation of its security codes. In fact, the codes are so long that there are more atoms in the universe than possible combinations! So rest assured that your information will remains totally anonymous and unencryptable.
Coverme also has numerous other privacy and security features that put it far ahead of the competition when it comes to protecting you and your data.
Private Messaging

CoverMe's messaging service is fully encrypted and allows for group messaging as well as individual messages to remain fully secure. It also has a broadcasting feature that lets you send encrypted videos out live to the people who need to hear from you.

Alternative numbers

For when you need to hide your number or prevent someone from identifying your caller ID, you can create additional burner numbers to call, message, and register for services with.

Personal vault

Store all your private digital belongings – photos, contacts, messages, files and videos – within a password-protected vault.

Message recall

CoverMe allows you to recall messages sent by mistake or set timers on messages so that they automatically self-destruct.
For the ultimate in communication security, choose CoverMe today. We are a leading provider of mobile security options, and over a million customers use our service on a daily basis to text and call with confidence.