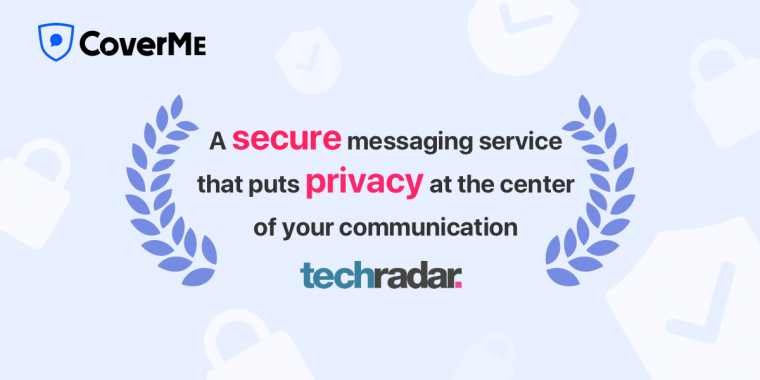 As an online platform focused on technology, TechRadar provides news and reviews about tech products in a fair, unbiased way. They devote themselves to exhaustively evaluating the new tech stuff and clearly explaining how it works and why you should buy it or not. With a terrific number of loyal users, TechRadar is regarded as one of the most persuasive and authoritative consumer technology sites.
The following content includes the verdict and main comment on CoverMe made by Daniel Ginn, TechRadar. You can read the original review on the TechRadar website by clicking here. Generally, it is a comprehensive and objective evaluation passage and has a certain reference value for application users.
We appreciate all the judges made in this article, and CoverMe team will always strive to provide users with better products and services.
Overall Verdict by TechRadar
CoverMe is a private communication app that offers a pleasant user experience and is excellent in securing messages and storing your personal files. However, the service is relatively expensive since many of the pay-to-use features are available through other apps free of charge. Besides, this app is more suitable for those who need strict privacy and security without compromise.
Plans and pricing
CoverMe is free to download on iOS, macOS, and Android devices. However, to gain access to all of its features, you'll need to pay for a monthly, quarterly, or annual subscription. Users have to pay for many features separately, which makes using the service somewhat confusing and expensive.
To send texts and make calls to non-CoverMe users, you'll have to purchase a unique cell number inside the app. You have the option of paying $9.99 per month with 300 SMS credits or 150 voice credits or $20.99 per quarter with 1000 SMS credits or 500 voice credits. Calls within the United States cost one credit per minute. It costs one credit per SMS and four credits per MMS. You can top up your credits at any time for the price of 80 credits for $1.99.
CoverMe also provides a basic cloud storage service with its secure vault. You can back up photos, documents, videos, notes, audio, and passwords on it for an annual payment of $26.99. Each category comes with 16GB of storage space, which is plenty enough for most file types. However, you may need to look for another cloud storage app if you have a lot of photos and videos to save.
Features
CoverMe also possesses some attractive features which we will detail below.
On CoverMe, you can not only use a virtual number to make calls and send messages without showing your personal number, but also program the app to send disappearing messages that will delete themselves automatically once the receiver has read them. (CoverMe states there's a 10-second delay between the receiver reading the message and its disappearance.)
To keep prying eyes away while using the app, you can turn your screen into a photo gallery by simply shaking your cellphone. Other core features include call screening, which allows you to block unwanted calls, and Magical Notifications, which hides the details of a message when you receive a text. The latter is a common feature, and in our opinion doesn't justify premium prices.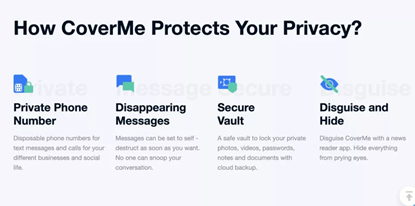 Interface and in use
CoverMe is an easy-to-use app. To sign up, all you need to do is enter a valid email address and create a unique password. You'll need to purchase your virtual number before you can start making calls or sending messages, but it just takes a minute or two.
Sending a text is simple, just like any other messaging app. And we do like the option to customize the appearance—you can change backgrounds with images from the app or from your camera roll, and choose between a small, medium, or large font size.
Although making a call is easy, call quality is passable at best. Conversations sounded muffled and distant for both the CoverMe user and the person receiving the call.
Support
CoverMe's FAQ section covers most technical and functionality-related inquiries. However, there is no mention of pricing here or anywhere on the website.
There is no phone support or live chat either. If you have a technical query, you must send an email to the company and wait for a response. We sent a general enquiry and got a response within 13 hours. Business customers that rely on the app for in-house communication will be concerned about the absence of immediate help.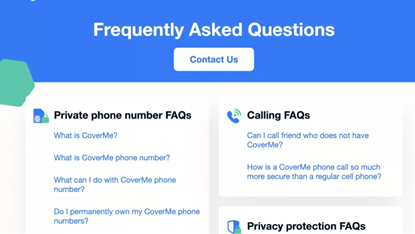 Security
To access the app, users must enter their password each time. There's also the option to use both touch ID and Face ID.
CoverMe protects third-party access to messages through end-to-end encryption. Calls are made through a VoIP system, which divides the call signal into "packets," making it difficult for unwanted eavesdroppers to intercept the call. CoverMe describes its encryption quality as "military-grade AES standard cryptography," telling users they can enjoy discreet and protected communication when making calls and sending texts inside the app.
The competition
CoverMe is a security-focused calling and texting app most people will not have come across. Instead, more publicized options like Signal and Telegram are the go-to platforms for encrypted messages and calls—and they're completely free throughout all their features.
However, they don't offer a virtual number, which is where CoverMe stands on its own. Nor do they have an option to store personal data in the cloud, another feature that makes CoverMe an attractive option.
Final comment
CoverMe excels when it comes to security and privacy. It is undoubtedly a powerful tool if you require strong protection online. But many of its features are available elsewhere, at a fraction of the price.
If this review took place 5 to 10 years ago, CoverMe would be leading the pack. But as other app developers have caught up with the importance of privacy and security, CoverMe is somewhat behind.